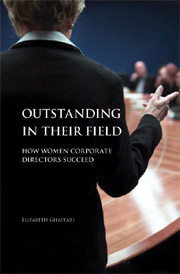 "Elizabeth: ... thanks for including me in your book, as it has stood the test of time very well and seems to be on its way to classic status! :)"
Janet M. Clarke, corporate director featured in Outstanding.
---
"[It] is good to be finalizing this superb passage from your book for appearance in ... this next issue of Directors & Boards [3rd Q 2010 Summer issue distributed] at the National Association of Corporate Directors' annual conference in October in Washington DC." See: There Are No Guarantees.
... There is so much rich material in your book, but this passage that I crafted just jumped right out at me for its practical and enduring wisdom and for setting the right tone and thought leadership to be the concluding editorial piece in the next edition.
Thank you for your supportive collaboration in making this happen!"
James Kristie, Editor and Associate Publisher, Directors & Boards
---
"You are a talented writer and I am thankful to have such a strong articulate voice on a matter important to us all."
Judy Warner, Chief Content Officer, Directorship, publishers of NACD Directorship and Directorship.com
---
"It is a long-needed and overdue book about the importance to American business to recognize outstanding corporate women directors."
Shirley M. Hufstedler, Senior of Counsel, Morrison & Foerster LLP; former corporate board member, former Judge of the U.S. Court of Appeals for the Ninth Circuit, and the 1st U.S. Secretary of the Dept. of Education (appointed at its inception in 1979 by President Jimmy Carter).www.mofo.com/attorneys/3771/summary.html.
---
"This important work comes at a time in history when the unique leadership gifts women bring to the governance table are more critical than ever before. Well-researched and abundant with thought-provoking information, Outstanding in Their Field is a must-read for women and men charged with ensuring ethical oversight."
Lois P. Frankel, Ph.D., pioneer in the field of business coaching, best-selling author of several international books on career development strategies for women, including her latest, See Jane Lead: 99 Ways for Women to Take Charge at Work www.drloisfrankel.com.
---
"What a ground-breaking, inspirational and important book! Elizabeth Ghaffari has done a brilliant job researching, interviewing and drawing insights from successful women serving on corporate boards. The many leadership lessons found in Outstanding in Their Field apply to both men and women in all fields of work. I highly recommend this book."
Dr. Susan Murphy, corporate consultant, speaker, and author of nine books, including In the Company of Women (co-authored with Dr. Pat Heim), 4genR8tns: Succeeding with Colleagues, Cohorts & Customers, and her most recent release Maximizing Performance Management. www.consult4business.com
---
"Women hold up half the sky, according to the Chinese proverb. Read this book to learn how women board members shine the sun on growth opportunities and improve financial results for the best companies."
Blythe McGarvie, Board member and author of Shaking the Globe, Courageous Decision-Making in a Changing World www.LIFgroup.com
---
"Outstanding in Their Field provides a refreshing look at the issue of women on corporate boards. The stories of women who have moved into corporate boardrooms and the analysis of lessons learned from a variety of women and a variety of routes taken to the destination makes it "real life" rather than a theoretical exercise. The overriding theme, that the issue of women on boards comes down to a question of whether women are ready and willing to lead and govern in the corporate marketplace, gives a tough love flavour to the book."
Courtney Pratt, Chairman, Knightsbridge Human Capital Solutions, Toronto, Canada and author, with Larry Gaudet, of Into the Blast Furnace: The Forging of a CEO's Conscience www.knightsbridge.ca
---
"Outstanding in their Field is a very timely and important in-depth look at the paths successful women executives have taken to the boardroom of public companies and the lessons they learned along the way. At a time when public companies are undergoing significant transition in governance as well as in management, Elizabeth Ghaffari's research provides excellent advice for women considering public company directorship positions. I highly recommend this book."
Donald R. McCrea, Ph.D., President, Bus-Ed Partners, Inc.; former Director of Custom Executive Education, UCLA Anderson School of Management; former Director of Executive Education, University of California, Irvine. www.bus-edpartners.com
---
"Like myself, many women who serve on corporate boards are often asked if there is a specific path to board service. My response is generally that there is not a single, simple path. Ghaffari's book demonstrates that accomplished women come from many disciplines and a variety of backgrounds. It is a good read for women considering a future in board service as well as those who gain inspiration from the success of others."
Bonnie Hill, President, B. Hill Enterprises, LLC
---
"Different experiences and diverse perspectives matter. In her book, Outstanding in Their Field, Ghaffari shows how women came to be directors in today's tough governance environment, how they are valued, how they regard shareholder interests, and how they assess risks from a personal and professional perspective. The women Ghaffari describes are role models for other women who would lead, and also for corporate boards that want to add talent to their director rosters. Ghaffari suggests that 'learning to play by the rules of the game' is necessary -- but not sufficient. It's also important to change the rules of the game so that the different perspectives women bring are valued."
Dr. Judy B. Rosener, Professor Emerita, The Paul Mirage School of Business, University of California, Irvine. Author of "Ways Women Lead," (Harvard Business Review, 1990) and America's Competitive Secret, Women Managers (Oxford University Press, 1995). merage.uci.edu
---
"Through her new book, Elizabeth Ghaffari shows us that a C-suite role is no longer the ultimate corporate dream for women. With early planning and increasing role mentors, women can proactively manage their careers to include the B-suite. Let the dream continue!"
Jacqueline Orange, Corporate Director and former CEO of Canada Investment and Savings
---
"The role of women on boards has been underrated and a missed opportunity for too long. Congratulations to Elizabeth for so vividly demonstrating the capacity and value women bring to the boardroom. Let's hope this helps to move women into the boardroom more rapidly, so that one woman director is no longer the token norm on a board. Let's hope we can embrace and leverage this powerful resource that is women."
Susan F. Shultz, Board Practice Leader, Morgan Samuels Executive Search; CEO, The Board Institute, and author of The Board Book: Making Your Corporate Board a Strategic Force in Your Company's Success (AMACOM, September 2000). www.theboardinstitute.com
---
"This important study opens windows wide to the current reality of women's leadership journey to the Corporate Board Room. Ghaffari offers a thorough analysis of the combined successful experiences across broad business and not-for-profit sectors and confirms the value-add that women bring to these Board roles."
Marina Heidman, Ph.D., Executive Coach, Knightsbridge Human Capital Solutions, Toronto, Canada. www.knightsbridge.ca
---
Home | Contents | Audiences | Advance Praise | Press Room | About the Author | Order the Book