---
WITI/GEN May 22, 2008
---
Some notes from the teleconference presentation by Elizabeth Ghaffari to WITI/GEN on May 22, 2008.

The first woman on a Fortune 500 corporate board was Patricia Roberts Harris at IBM beginning only in 1971 -- a mere 37 years ago. That's just one generation of experience on public company corporate boards. Today, about 1,100 women sit on Fortune 1000 corporate boards, with 831 on Fortune 500 boards according to Catalyst Inc. which began surveying women directors in 1993.

The data for 1995 to 2007 is enlightening. In the past 12 years, there's been steady growth in the number of women-occupied seats vs. a decline in the number of total board seats overall and male-held board seats, in particular, at Fortune 500 firms. (Women are measured on the right axis).
.

Generally, more men have left boards since 1995, and average board size has dropped for the top F500 firms from about 12.8 to 11.2, yet women have added 231 occupied seats.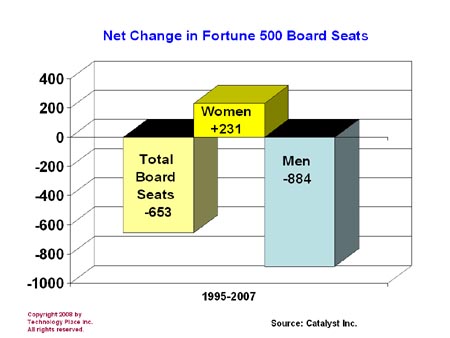 .

There's a price to focusing only on the top firms: from 1971 to date, only about 19-20 women were added to top F500 boards per YEAR. Contrast that with the press release announcements at NewsOnWomen.com which reported 278 press releases in 2006 of women named to corporate boards at US companies at the Fortune 1000 levels and smaller. For 2007, the total number of press releases was 293. That represents about 24 new women named to boards a MONTH on average. That's a very positive trend and evidence that the pipeline of experienced, competent women actually named as directors at somewhat smaller firms is increasing, dramatically. That undoubtedly will explode onto the top tier Fortune 1000 firm levels in the near future.

Part of the explanation is that the F500 level represent only top revenue firms, while women are being added to boards on a full range of firm size. Another explanatory factor is that the firms added to the F500, certainly in the past 7 to 8 years, represent a war economy (oil, energy, security, defense, etc.) where women have not yet taken on leadership -- although many women are rising in those sectors, too. See my analysis of the additions of Texas firms to the F500 in recent years. Yet, Texas is not exactly your hotbed of corporate diversity (barely 9% women on their F500 boards). The Texas Theory

According to Catalyst's 2007 data, the distribution of women per board has been pretty stable: almost 72% of boards have 1 or 2 women. Less than 17% have 3 or more women directors. This undermines the theory that 3 women directors constitute a "critical mass."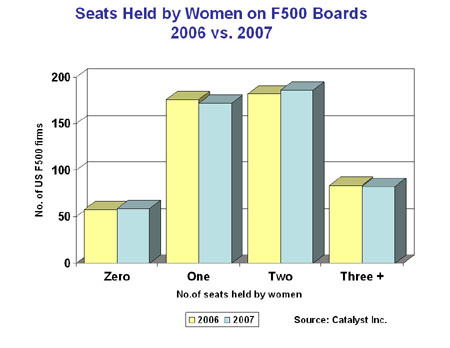 Because there are so few firms with 3+ women directors, it is hard to see how anyone could generalize that that is either a positive or negative. The "critical mass" theory is based on too little experience with 3+ women; furthermoree they reached that conclusion using anonymous surveys and anecdotal comments from a dominantly male CEO sampling.

The women of color data also is very weak because Catalyst only looked at 337 firms out of the total F500 and found 113 women out of 3,809 board seats or 3.0% -- it's a low response rate. They'd do better to find a more objective way other than simply ask companies. There are a lot of very talented women of color on all sizes of for-profit boards.

Other resources to tap: