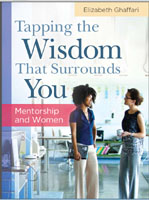 Tapping the Wisdom That Surrounds You: Mentorship and Women
by Elizabeth Ghaffari
From the Jacket Cover:
Are you seeking the perfect mentor or life adviser—an ideal guide, no matter what the challenge? This book provides a unique and new road map for a modern world, demonstrating that the wisdom we seek surrounds us at every turn. Wisdom and mentorship can come from unexpected sources.
As a professional speaker about leadership and as a coach and judge of entrepreneurial business competitions, author Elizabeth Ghaffari found that those seeking "a mentor, coach, or sponsor" often had no idea where to find such support—nor knew what they needed to receive from such a relationship.
In this book, readers will learn how to recognize invaluable mentorship and guidance all around them—from family members, at school, at work, in recreational and social settings, in the media and politics, and even from those who have left us. The true-life stories and testimonials presented will inspire and motivate you to endure, succeed, and prevail.
This fun-to-read book contains the definitive answer to the question "How can I find a mentor?" as well as unique insights that young women can apply to transition into becoming successful leaders and define long-term success for themselves. Similarly, readers with more career experience will derive affirmation, motivation, and encouragement from peers as they chart their own leadership course.
Highlights
Presents a collection of true stories by real women describing their actual experiences that will benefit and speak to any career-minded professional, women and men alike.
Provides key insights into the mentee(protégé)-to-mentor relationship, including how, when, and why effective mentorship does or does not happen and how to develop a mindset that attracts successful role models.
Helps readers to recognize and gather evidence that enables them to counter the negative messages and obstacles that confront career-driven women.